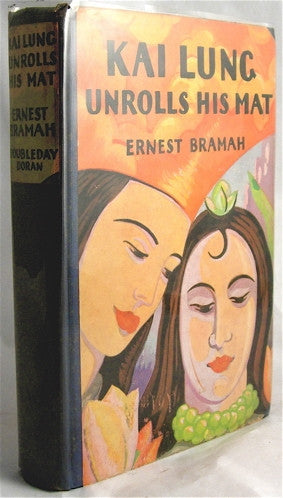 ---
A nice edition, with attractive illustrated boards, of this collection of entertaining oriental tales. Light edgewear.
Doubleday, Doran & Company, 1928
hardcover, very good condition
from Wikipedia:
Ernest Bramah (20 March 1868[1] – 27 June 1942), born Ernest Brammah Smith, was an English author.[2] He published 21 books and numerous short stories and features. His humorous works were ranked with Jerome K Jerome and W.W. Jacobs, his detective stories with Conan Doyle, his politico-science fiction with H.G. Wells and his supernatural stories with Algernon Blackwood. George Orwell acknowledged that Bramah's book, What Might Have Been, influenced his Nineteen Eighty-Four. Bramah created the characters Kai Lung and Max Carrados.
Bramah was a recluse who did not give the public details of his personal life. He died at age 74 in London.
Early career
Ernest Brammah Smith (he later changed his name to Ernest Bramah) dropped out of the Manchester Grammar School at 16, having been close to the bottom of each class in each subject. He went into farming, first as a farm pupil and then in his own right. He was supported by his father who had risen in a short time from a factory hand to a wealthy man. The farming enterprise cost his father £100,000 in today's money. It was while farming that he began to contribute local vignettes to the Birmingham News. Later he wrote a tongue-in-cheek book about his adventure in farming which found few buyers and was remaindered and pulped. After the farming debacle, his father agreed to support him while he made his way in Grub Street. He obtained a position as secretary to Jerome K. Jerome and rose to become editor of one of Jerome's magazines. After leaving Jerome he edited other journals for a publishing firm that later went into bankruptcy.
Writing career
Bramah attained commercial and critical success with his creation of Kai Lung, an itinerant storyteller. He first appears in The Wallet of Kai Lung which was rejected by eight publishers before Grant Richards published it in 1900. It was still in print a hundred years later. The Kai Lung stories are humorous tales set in China, often with fantasy elements such as dragons and gods.[3]
With Kai Lung, Bramah invented a form of Mandarin English illustrated by the following passages:
Kai Lung rose guardedly to his feet, with many gestures of polite assurance and having bowed several times to indicate his pacific nature, he stood in an attitude of deferential admiration. At this display the elder and less attractive of the maidens fled, uttering loud and continuous cries of apprehension to conceal the direction of her flight.[4]
and
In particular, there is among this august crowd of Mandarins one Wang Yu, who has departed on three previous occasions without bestowing the reward of a single cash. If the feeble and covetous Wang Yu will place in his very ordinary bowl the price of one of his exceedingly ill-made pipes, this unworthy person will proceed.[5]
and
After secretly observing the unstudied grace of her movements, the most celebrated picture-maker of the province burned the implements of his craft, and began life anew as a trainer of performing elephants.[6]
The Kai Lung stories are studded with proverbs and aphorisms, such as the following:
"He who lacks a single tael sees many bargains"[7]
"It is a mark of insincerity of purpose to spend one's time in looking for the sacred Emperor in low-class teashops"[8]
"It has been said there are few situations in life that cannot be honourably settled, and without loss of time, either by suicide, a bag of gold or by thrusting a despised antagonist over the edge of a precipice on a dark night"[9]
Bramah also wrote political science fiction. What might Have Been, published in 1907 and republished as The Secret of the League in 1909), is an anti-socialist dystopia reflecting Bramah's conservative political views.[10] It was acknowledged by George Orwell as a source for Nineteen Eighty-Four. Orwell credited it with giving a considerably accurate prediction of the rise of Fascism.[11]
At a time when the English Channel had yet to be crossed by an aeroplane, Bramah foresaw aerial express trains travelling at 10,000 feet, a nationwide wireless-telegraphy network, a proto-fax machine and a cypher typewriter similar to the German Enigma machine.
In 1914, Bramah created Max Carrados, a blind detective. Given the outlandish idea that a blind man could be a detective, in the introduction to the second Carrados book The Eyes of Max Carrados Bramah compared his hero's achievements to those of real life blind people such as Nicholas Saunderson, Lucasian Professor of Mathematics at Cambridge, Blind Jack of Knaresborough the road builder, John Fielding the Bow Street Magistrate of whom it was said he could identify 3,000 thieves by their voices, and Helen Keller.
Interesting times
Bramah has been credited with the invention of the saying, widely quoted as an ancient Chinese curse, "May you live in interesting times", along with "May you come to the attention of those in authority" and "May you find what you are looking for".[12] However, these do not appear in the Kai Lung stories.
Bibliography
Kai Lung books
---
Tags
Literature
---
Share this Product
---
More from this collection