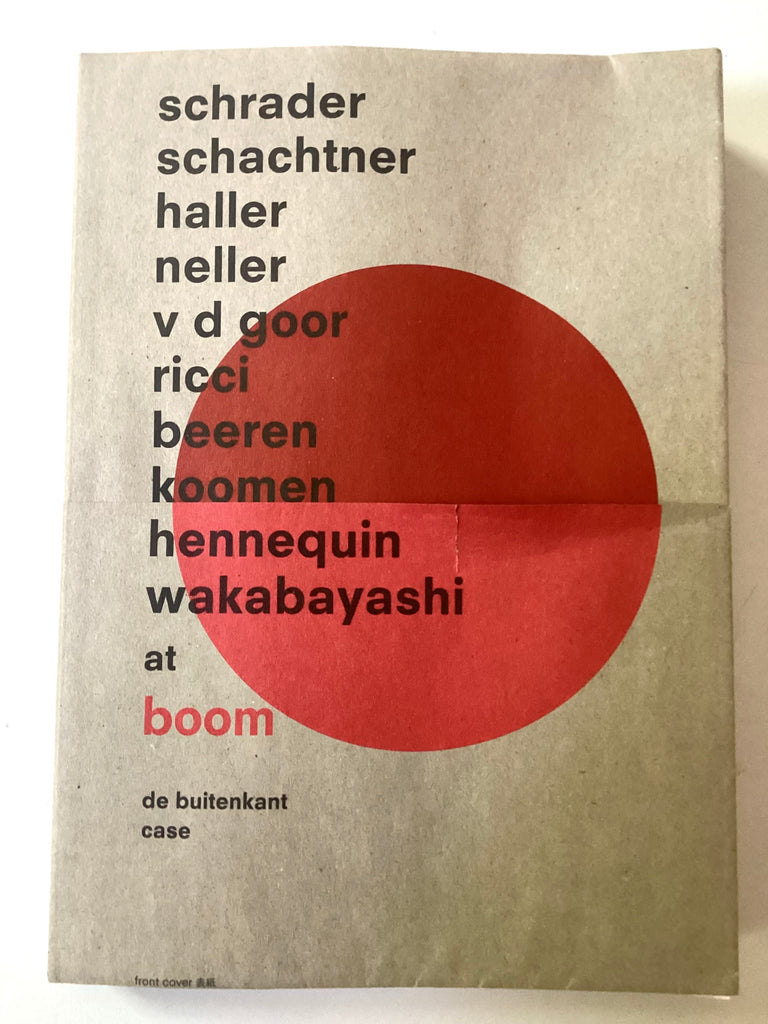 ---
De Buitenkant/ Case, 2015. Thick softcover with band, devoted to the celebrated designer of books. Closed tear in band. Previous owner's gift inscription.  

Publisher's info:
"This book is published on the occasion of the exhibition Irma Boom Books at Tokyo Art Book Fair (September 19-21, 2015) and a book shop 'Post' in Tokyo (December 2015)."--Colophon.

        

Contributions / Niels Schrader ; Maximilian Schachtner ; Sonja Haller ; Julia Neller ; Sanne van de Goor ; Federica Ricci ; Sanne Beeren ; Floor Koomen ; Barbara Hennequin -- Interview with Irma Boom / Toshiaki Koga




IRMA BOOM (IB) is a Dutch graphic designer. She studied at AKI in Enschede and started her professional life at the Government Publishing and Printing Office in The Hague, where she made the revolutionary Stamp Books 1987+88 for PTT. In 1991 she founded Irma Boom Office (IBO) in Amsterdam. She has been a senior critic at Yale University in the USA since 1992. Boom sees her books as containers of thoughts, that communicate ideas and stories. She broke through internationally in 1996 with her by now iconic SHV Thinkbook 1996-1896, which she worked on for five years. The many commissions that followed led to an impressive career. The IBO works with the Rijksmuseum Amsterdam, Chanel, Bard Graduate Center, Fondazione Prada, Moderna Museet, OMA/Rem Koolhaas, Prince Claus Fund, Phaidon, and other international artists and museums. One hundred of the over 300 books designed by Irma Boom until now, were added to the permanent collection of the MoMA in New York. In 2003 the Library of the University of Amsterdam made a start with the Irma Boom Archive. Her work has been much awarded and in 2014 she received the Dutch State Prize for the Arts, the Johannes Vermeer Award, for her 'unparallelled achievements in the field of graphic design'. Since 1991 she always had one or two assistants working at IBO: young, budding designers with different nationalities. This publication was initiated by Akiko Wakabayashi, at IBO since 2013, on the occasion of exhibitions in Japan. Ten former and current coworkers of IB were asked to put their personal views on the IBO design practice to paper - in their own words, design and imagery. Together they present us with a remarkably intimate portrait of IB and her philosophy on work and design. The interview with IB by Toshiaki Koga explores the immaterial labour behind the making of books at IBO.
2015
---
Tags
Graphic Design
Irma Boom
Typography
---
Share this Product
---
More from this collection